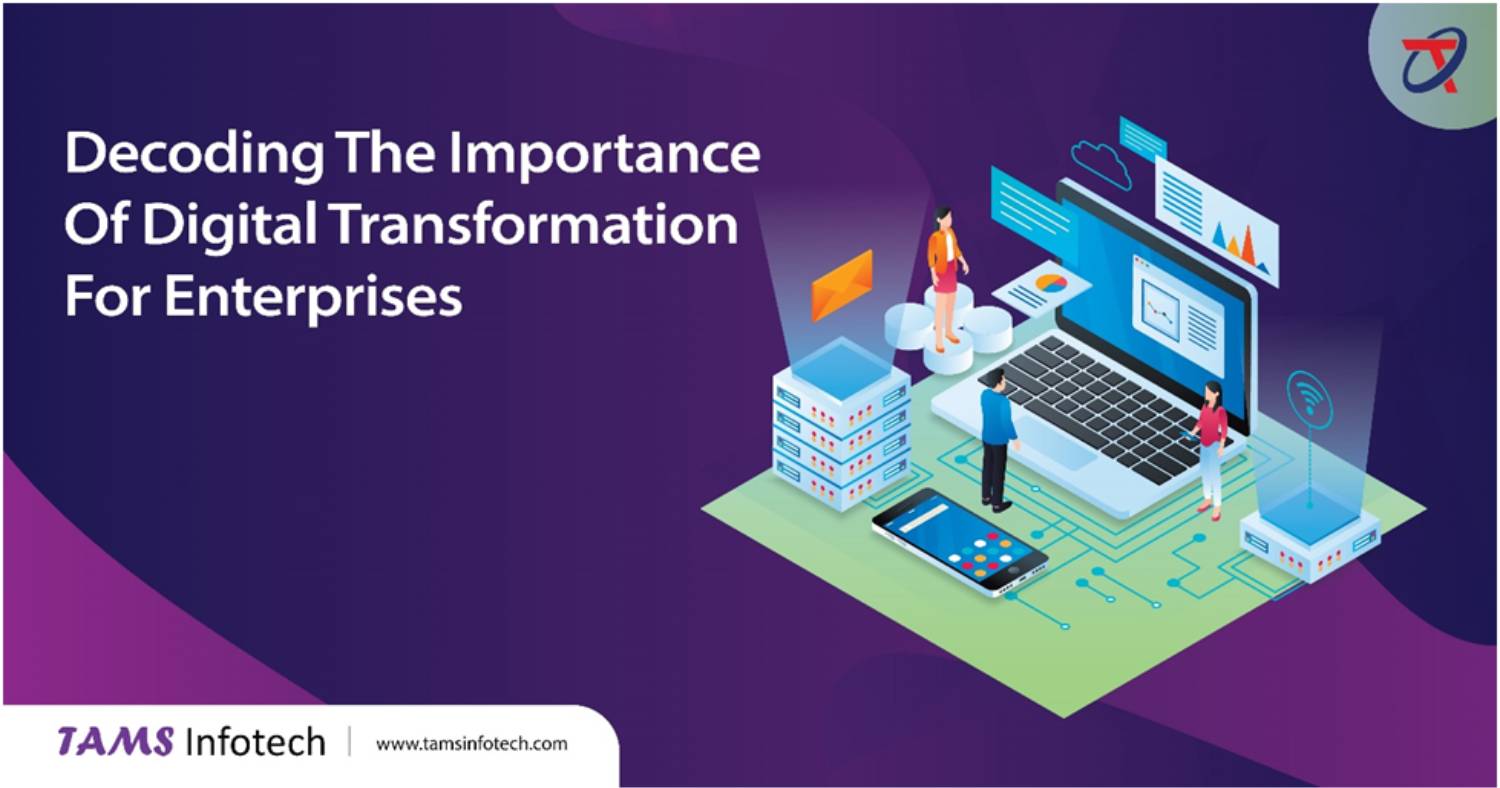 Decoding the importance of Digital transformation for enterprises
Digital transformation is the innovative progression by which enterprises embrace advanced technology infrastructure across their business model. It drives metamorphosis in their daily business operations. The digital transformation investment will surpass $7 trillion with a CAGR of 18% from 2020 to 2023 considering predominant investments for enterprises to be future challenge ready, said a report by IDC.
Globally, digital transformation is becoming the chief approach for sustenance and development. With the epidemic compelling enterprises across their sizes to adapt to the new regime is the need of the hour, business leaders are required to –
Redefine their code and become digitally savvy
Proactively managing the talent
Creating an agile process
Deploying appropriate technology and platforms
Strategically utilizing data
Dominantly prior to the global pandemic, the digital transformation arm was embraced and primarily focused on driving exceptional customer experience. Year 2020 broke the monotony and led to a paradigm shift where embracing digital transformation became the centerpiece of operational efficiency, business success and overall innovation across enterprises.
It is a modification from traditional working operational ways toward a more collaborative, advanced and experimental approach. Approaching daily business challenges empowered with the SAP ecosystem for enterprises reveals new solutions which turn into augmented customer experience, drive upheaval among the workforce and become a catalyst for enterprise success graph enlargement.
Improved operational efficiency
The significant challenging concern for enterprises is their inefficiencies in daily operations, whichreduces profit, customer satisfaction, and the brand image of a business. The traditional operational legacy systems cannot match the required efficiency at scale in daily business operations such as sales, marketing, finance and manufacturing. Some significant challenges were as follows –
Lack of accurate analytical data for strategies
Low surveillance on the quality
Non-streamlined workflow
Glitches in manufacturing
Time-consuming manual work
High paperwork
Value points like easy and cost-effective implementation, intelligent and real-time analytical data, and report analysis for making the strategies carry immense business value.
Robust business strategies
Considering the shift in business process to become more complex, a holistic end-to-end approach to information analytics services is impending requirement for straightforward way to manage business plans and improve sales. Digitized marketing campaigns empowers to track metrics, data-driven customer acumens lead to create a more efficient, relevant, personalized and agile customer-centric business strategy.
SAP Analytics Cloud is a divergent analytics tool which integrates analytics throughout the business generated data to process the metrics for robust strategy making. Analyzing the data opens the numerous ways for enterprises to have business prosperity multifaceted.
Efficient financial management –
Finance management is considered a critical segment for enterprises, and business leaders cannot afford to have irregularities and less attention.
Automating daily financial operations such as payments, cash flow, purchasing, and other transactions creates an ecosystem for better business output.
The system empowers the business model further robust, flexible and agile multifaceted to respond swiftly in challenging circumstances.
Increasing Customer-Centricity
Customers' interaction models with brands, products, and companies have been changed due to the pandemic, leading to an evolution in connecting with customers. It provoked an intellectual paradigm deflection in consumers, urging them to embrace the digital environment.
The equivocal buying pattern is now a veteran episode for business leaders. With the advent of e-commerce, expeditious delivery service and social media influence lead to spike and peak immediately for a particular product, which necessitates intelligent enterprise resource planning such as SAP S/4HANA to avoid interruptions in a fragile customer experience.
Legitimate escalier are embracing business transformation competency for augmented services, digitalizing customer journeys, developing expedition in customer service and real-time analytics utilization for a better customer-centric approach.
TAMS Infotech's arm in empowering Digital Transformation
TAMS Infotech comes with the solution to the practical business challenges for the clients with theirexceptional product knowledge, rich experience and diversified capabilities by delivering end-to-end Functional and Technical Services across all SAP Solutions.
The extensive working portfolio comprises wide-ranging services which are fully proficient in digital transformation for longstanding success. The deployment process has been resourceful for the smooth and swiftSAP solution deployment.
With deep industry knowledge and an integrated view of strategy, people, process and technology, we demonstrate our skills and expertise throughout our engagement with our clients.
To learn more about TAMS Infotech Digital transformation capabilities, please click here