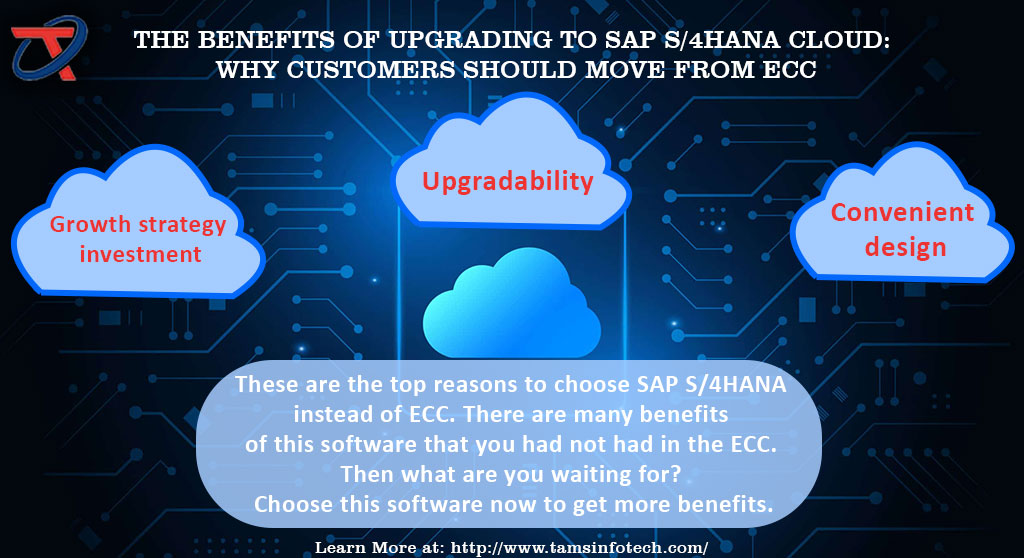 The benefits of upgrading to SAP S/4HANA cloud: Why customers should move from ECC
SAP will provide support for ECC until 2027 under a standard support contract. However, you could run into a brick wall if you wait until then to begin your move to SAP S/4HANA.
By implementing SAP S/4HANA, your business can use next-generation operations on a proven technology platform that supports business growth. You can gain the benefit of cutting-edge technologies by leveraging emerging technologies like HANA in-memory, FIORI interfaces, and embedded AI. By moving to S/4HANA sooner rather than later, you can stay ahead of the competition and transform legacy data into actionable insights.
 Growth strategy investment Your business needs a software solution that can adapt and grow as it expands into various markets or increases production facilities. Investment in an intelligent ERP system, such as SAP S/4HANA, will support and complement your growth plan and reduce time-to market, mainly if your current ERP solution has a shelf life.
 Convenient design
The streamlined, user-friendly design of SAP S/4HANA across multiple platforms, including desktop, tablet and mobile, is one of the most significant returns. IT administrators and managers have easy access to data and intuitive interfaces with the solution. The SAP S/4HANA architecture uses centralized hardware and network resources, making digital transformation more effective.
S/4HANA was designed to optimize for cloud environments automatically, so this is especially important if you're moving to the cloud.
 Upgradability
With this Edition, the customer is in control instead of being forced to upgrade systems quarterly. Upgrades and innovations are up to you, so you can better manage the impact on your business processes and organization. The maintenance support contract requires upgrading for at least five years to remain in good standing.
Summary,
These are the top reasons to choose SAP S/4HANA instead of ECC. There are many benefits of this software that you had not had in the ECC. Then what are you waiting for? Choose