Our Services
TAMS Infotech is well-versed in providing SAP and cloud solutions to customers across the global and various industry verticals.
The process of moving from SAP ERP to S/4HANA is called system conversion.
System Conversion is typically the fastest option, an approach that converts any SAP ECC 6.0 system running on any database to SAP S/4HANA, preserving your existing configuration, customizations, and historical data. This approach allows a rapid technical conversion, adding innovations in a direction for an enterprise to become an Intelligent enterprise.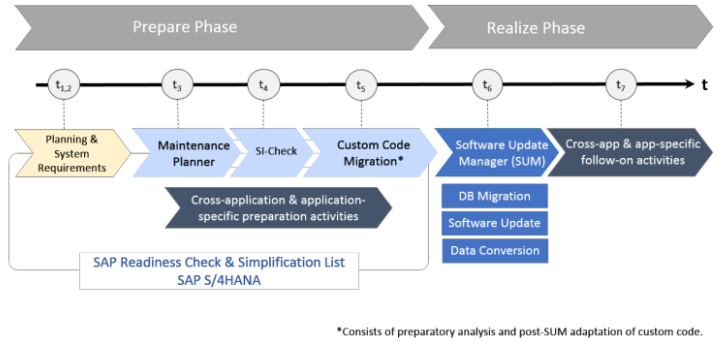 An SAP implementation can be challenging, complex and a channel on your association's assets. We work closely with the stakeholders and decision makers of the organization to ensure that the implementation project is concluded successfully and that the desired results in terms of process improvement and data management within the organization. We partner with our customers to understand the existing business processes, collectively design the roadmap of implementing an optimization or reengineering of the existing processes. In order to ensure timely and cost-efficient completion of an implementation project, different recommended methods are used.
Rapidly changing market scenarios and the competitive nature of the business processes force the enterprises to take important business decisions faster with the help of Raw data. In this case, the new version of the ERP system helps the companies to optimize their existing business process as well as realize the new processes which bring the advantage for them in digital competition. Here SAP S/4HANA proves to be the true new dimensional product for the enterprises to innovate by migrating their existing business process to high performance and fastest platform HANA with new features and functionalities.
TAMS offers efficient and best practices based SAP Application Support Services for our Clients by leveraging highly experienced, offshore as well as near shore SAP resources. We can undertake long term turnkey offshore support projects as well as short term spot assignments. Our team can support the complete SAP landscape as a long term engagement and also offer an optional service for specific assignments based on an hourly/day rate. TAMS can work with you to support the entire SAP landscape or against request for specific skill set to meet your specific support requirements. We provide flexibility and efficiency in our support model with clear emphasis on minimizing implementation risks and thereby ensure that we successfully meet our client's business needs.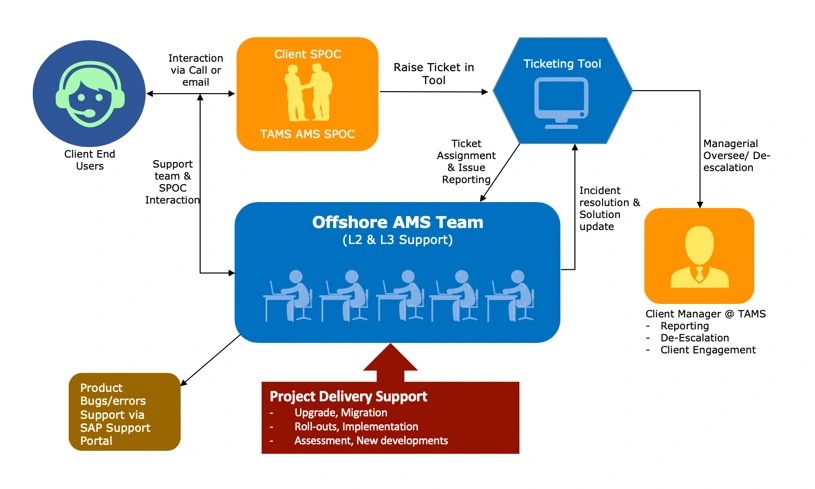 Our Consultants have vast experience creating and implementing IT infrastructures as well as SAP systems. Our TAMS consulting services have enabled our customers to establish rapid, responsive, and innovative processes. That has assisted them in lowering costs, reducing risk, accomplishing goals, expanding operations, and evolving with ever-changing company requirements, industry trends, and market demand. With insight to India-specific changes in the business environment of Corporate customers, TAMS has made SAP consulting efficient.
SAP Professional Services
Over 10+ years of experience, our capabilities and expertise, we help your business to deliver projects successfully with our resource pool. At TAMS, we combine our insights and skills to transform your processes and strategies, and work as an extend team.
Over a period we have built our own database of a diverse pool of skill & technical resources which allows to keep adding required skillset from clearly defined recruitment process, Onboarding process and competitive price.
Skilled resources
Better rates
Strong hands-on & business experience
Focused consultants
Cloud computing has enabled organizations to not only lower administrative and overhead costs, but also turbocharge business innovation and growth. While cloud computing empowers organizations to reduce their legacy infrastructure costs.
We provide cloud-based delivery framework that utilizes best-in-class monitoring, management, and delivery tools and services across solutions to help organizations effortlessly migrate their infrastructure needs to the Cloud.
Along with our world class Cloud services partner, offer flexible cloud infrastructure to host client's enterprise applications and a scalable virtual infrastructure to meet evolving business and IT demands. It helps to optimize costs, enhance time-to-market, and create flexibility in IT operations.